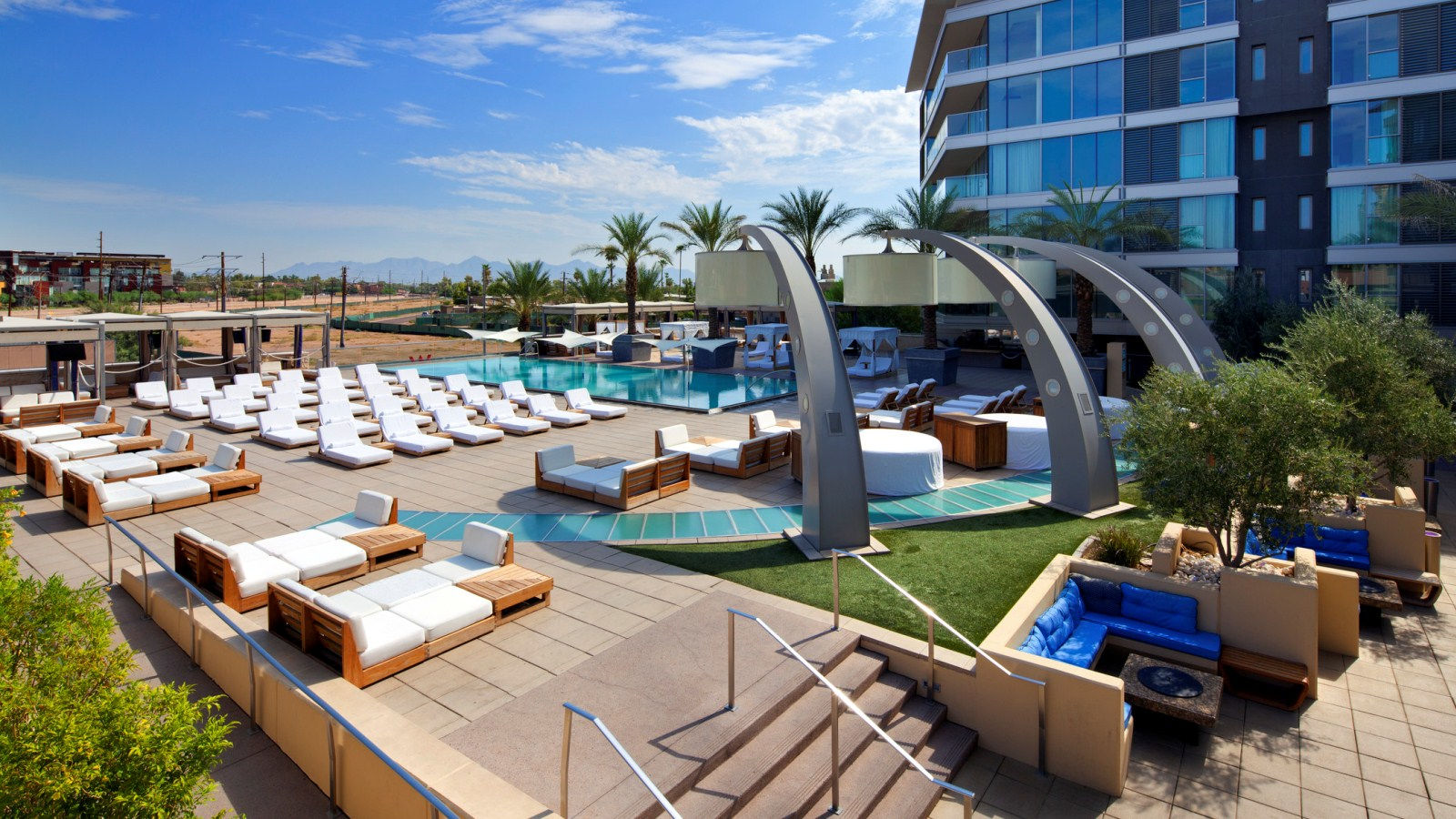 W Scottsdale is the place to see and be seen, both during the day and in the evening. Monday through Wednesday we offer a relaxing vibe, but Thursday through Sunday we offer an energetic atmosphere with live music and events.
A HEADS UP - POOLSIDE AT WET
Don't say we didn't warn you…
WET DECK
Join us for a swim, or hang out at our iconic rooftop WET pool, where we offer a fun sunbathing atmosphere. Enjoy stunning views of Scottsdale in the comfort of your own W lounge chair or private luxury cabana. Abandon the expected and sample creative poolside cuisine and signature cocktails by Shade Lounge.
KNOW BEFORE YOU GO
If you're looking for a relaxing getaway, want to lay poolside with a good book, are traveling with children, or want to soak up the sun in a peaceful, quiet environment, please let us know, and we'll do our best to ensure your room is located in a quieter area of the hotel or arrange for you to enjoy one of the pools at our sister properties.
LOUNGE
Lounge chairs are complimentary, for hotel guests only, and are available on a first come, first serve basis. Chairs cannot be held by placing personal items on them. Personal items left unattended will be turned into security and the chair will be released. If you're interested in relaxing in a daybed or cabana, please call 602 405 0099 and we'll be happy to assist with the reservation. It fills up quickly, so get there early.
FRIDAY, SATURDAY AND SUNDAY POOL PARTIES AT SHADE LOUNGE AND WET
W Scottsdale pool parties are the hot spot to mix and mingle every Friday, Saturday and Sunday (available seasonally) with our DJ spinning the latest beats from 12PM to 6PM. These parties are open to the public for patrons over the age of 21. Cover charge will apply for non-hotel guests. If you're interested in a VIP table, cabana or daybed, please call 602 405 0099 and we'll be happy to assist with the reservation.
MINOR POLICY AT WET
While we welcome guests with children, we do not allow anyone under the age of 21 on the WET pool deck. Trust us - it's for the best. Minors must be accompanied by their parent or guardian at all times to access the WET Deck.
ACCESS TO WET
We want all of our guests to be able to take advantage of the incredible scene at WET during the summer. In order to guarantee entrance, hotel guests must arrive at the pool prior to capacity. While there is plenty of space, it can fill up quickly, so get there early or be sure to book a reservation in advance to guarantee seating.
DRESS CODE
While we encourage and promote self-expression through fashion, we have a firm dress code. Only appropriate and upscale beachwear is welcome poolside at WET. This means NO jeans, basketball shorts, boots, printed shirts with offensive or aggressive graphics, or inappropriate swim or athletic wear. At night, our dress code is upscale and "dress to impress." Men must wear closed toe shoes and a collared shirt to access the bars.
NIGHTLIFE SPOTLIGHT
Every Thursday, Friday and Saturday from 9PM to 12AM in the Living Room we feature local and national recording artists as part of our Living Room Live series.
We offer a lively and energetic atmosphere on our second floor Wet Deck and Shade Lounge in the evenings that includes a DJ spinning and frequent live musical performance until 2AM. Hotel guests have the insider access and are always invited to our events! Just show your room key and bypass the line. If you would like to reserve a table or cabana with bottle service, please call 602 405 0099.
RESERVATIONS
We want you to make the most of your experience while you're with us. Please let us know if you want to make reservations in our award-winning Sushi Roku restaurant or a rejuvenating treatment in our Bliss Spa. There's plenty to do in the local area so don't hesitate to ask. Please call the concierge desk at 480 970 2101 for all your reservation needs.
MAKE A GREEN CHOICE
Green 24/7. Our latest green initiatives inject sustainability into the everyday. When you check-in, sign-up for "Make A Green Choice" and receive 500 SPG points.
Click here for additional tips and must-dos from our W Insider, Rachael Beinz.
If you have any questions, please contact our W Insider, Rachael Beinz at Rachael.Bienz@whotels.com or 480 970 2104 or explore www.wscottsdalehotel.com/happenings to view our upcoming events.
Photo courtesy of Brian Kelley at Encore24.